2020 Art & Culture Exhibition POSTPONED

After speaking to Nanuet school administrators and local officials and therefore in an abundance of caution for the health and safety of our students and community with respect to the COVID-19 virus, we are postponing the Art Show exhibition and event to a later date. The art will not be displayed at local businesses until we have coordinated a new date.
ADMISSION IS FREE!!!
(A suggested $10 donation per family, will help support Nanuet and Beyond, Inc.**  www.nanuetandbeyond.org and future student programs).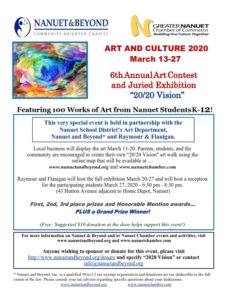 Join us for our 6th Annual Art Contest and Exhibition Reception featuring art from students K-12 in the Nanuet Schools. This year's theme is "20/20 Vision."
This special event is held in partnership with the Nanuet School District's Art Department.
Approximately 100 works of art created by the Nanuet schools students will be displayed at shops and restaurants throughout Nanuet. (A list of locations will be noted here a few days before the art is displayed). All of the art will be on display at Raymour & Flanigan, 43 Hutton Avenue, Nanuet for the week before the reception.
At the reception, participating students will be honored at Raymour & Flanigan. The art will be judged in advance of the disply by local artists, sculptors and art teachers. Prizes will be awarded to the top artist in each category along with 2nd, 3rd and Honorable Mention prizes…PLUS a Grand Prize Winner!
Our prior events have been an enormous success with art from students in all grades and more than 150 people attend who view the beautiful artwork from 100 talented students. The event features food and goodies from area businesses and we are working to continue the tradition of having live entertainment from Nanuet High School students.
Any business or individual wishing to sponsor this event, please go to the Donate page at Nanuet & Beyond and please specify "20/20 Vision." If you wish to provide food, beverages, prizes, etc. for the evening, please contact us at info@nanuetandbeyond.org.
For more information on Nanuet & Beyond and/or Nanuet Chamber events and activities, visit www.nanuetandbeyond.org and www.nanuetchamber.com
Thank you to our sponsors/donations to date who have contributed donations or food for the event on March 27:
Raymour & Flanigan
Wegman's
Banchetto Feast
Cho Cho San
Dawg House
Dom's to Go
Estrella's Cafe
Growler & Gill
Huntingon Learning Center
Jacqueline's Wine Bar
La Petite Denistry
Martio's Pizza
Mercedes-Benz Nanuet
Nanuet Library
Nanuet Restaurant
Staples
Stop & Shop, Nanuet
Wallauer Paint & Design, Nanuet